Drink Better Coffee Outdoors
Cafe Quality Coffee In
A Single-Serve Pouch
✔️Convenient ✔️Tastes Great
✔️Lightweight ✔️Compostable
Shop Now
Your Coffee Solution:
Backpacker Blend
⭐⭐⭐⭐⭐ (25 Ratings)
Drinking great coffee in the outdoors has been cumbersome for too long. You either need heavy equipment or settle for sub-par instant coffee. Our Backpacker Blend is the perfect on-the-go single serve option. Each brew bag is ultralight- weighing only 0.5 ounce. Simply steep for 5 minutes in hot water, no heavy gear required. Stop settling and enjoy a rich and comforting blend of coffee, made from cafe-quality freshly roasted beans.
Regular price

Sale price

$12.00
30 BAGS = SAVE 10% + FREE SHIPPING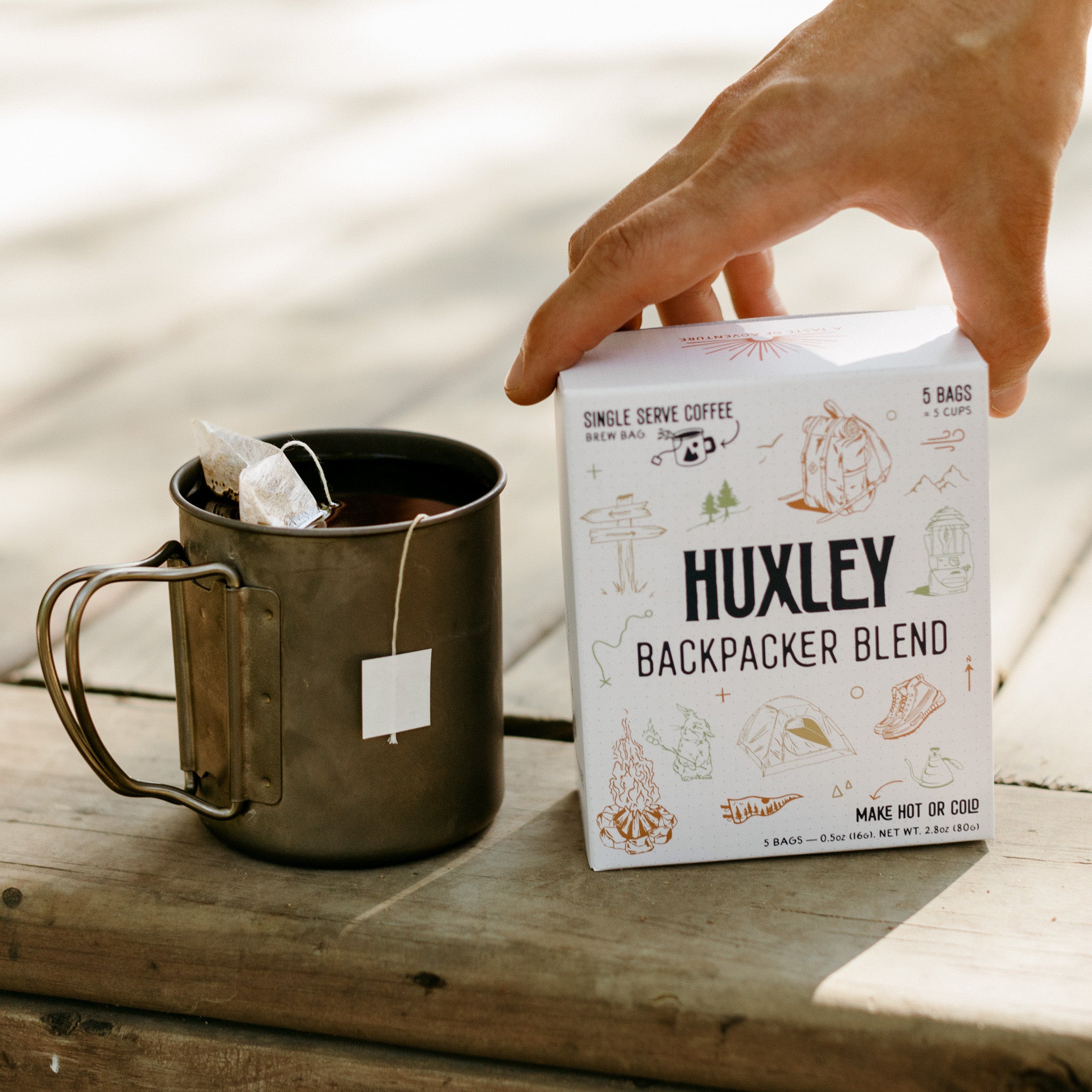 how to brew
Step 2

Add hot water and brew for 5-8 minutes. Longer = stronger.

Step 3

Remove brew bag (it's compostable) and enjoy!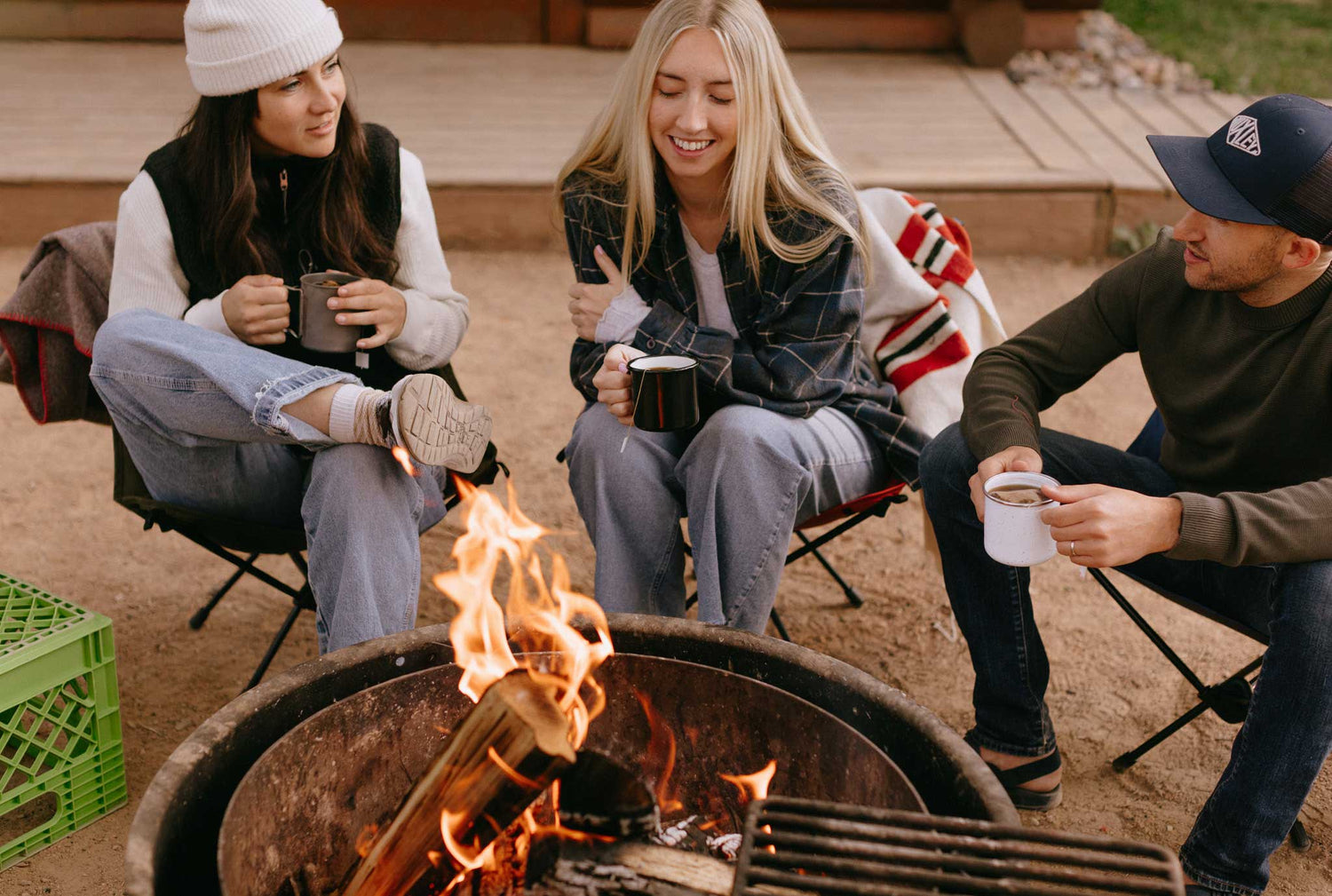 Get To Know Huxley
What happens when a creative ski bum, marketing guru, and food and beverage expert collaborate? Well for starters, meetings full of tangents and puppy photos. But besides that, you get Huxley. 
Once upon a time, we were part of the 9 to 5 hustle with idyllic jobs at a small marketing agency. We were building dreams alright, but they weren't ours. That's why in 2023, we took the leap.
Bootstrapped and caffeinated, we traded the corporate grind for a coffee grinder instead. Huxley is our adventure—our liberation—and it can be yours too.
Learn More
FAQ
How Do I Brew It?

It's simple! Put a Backpacker brew bag in a mug and add 8 oz of hot water.

Dunk the bag up and down for about 30 seconds.

Allow to steep for 5 minutes. Steep longer for a stronger brew.

Remove the brew bag (it's compostable!) and enjoy.
How Do I Make Cold Brew?

Add a Backpacker brew bag to a container and top with about 8 oz of cold or room temperature water.

Allow to steep for a minimum of 12 hours, and up to 24 hours for maximum flavor.

Remove the brew bag (it's compostable!) and enjoy.
How Long Does It Last?

Each pouch has been nitro flushed 3 times for maximum freshness. The brew bag last for 12 months from the date it was packaged. Check the bottom of the box for your exact expiration date.
What Type Of Coffee Is It?

The beans for the blend were sourced from Ethiopa Gera, Colombia Hulia, Guatemala Huehuetenango. They were freshly roasted, then ground to the perfect size for this brewing method.
How Do I Compost The Bag?

The brew bags are certified for household compost. We do not recommend digging a hole in the ground and burying it as it's important to pack it in, pack it out when on an adventure.
When Will My Order Ship?

Order for the Backpacker Blend will ship within 1-2 business days and shipped via USPS. Most packages arrive within 2-5 days depending where you live.