Give The Gift of Adventure
We believe everyone deserves to drink better coffee on adventures. That's why we put together holiday gift sets with the best gear and coffee out there. Find one perfect for the outdoor adventurer on your list.
✔️Free Shipping
✔️gifts under $100
Shop Gifts
All gift sets come with a custom handwritten card. Add your gift message in the cart before checkout.
Best Seller Duo
Introducing the Best Seller Duo– a combination of Huxley's most sought-after medium roast Daybreak Blend, celebrated for its harmonious taste profile that resonates with both novices and coffee connoisseurs alike. Paired with the versatile MiiR travel thermos, ensuring every sip retains its intended warmth and flavor, this set epitomizes the best of our offerings. Experience the blend and brew duo that everyone's talking about with Huxley.
Regular price

Sale price

$45.95
Free Shipping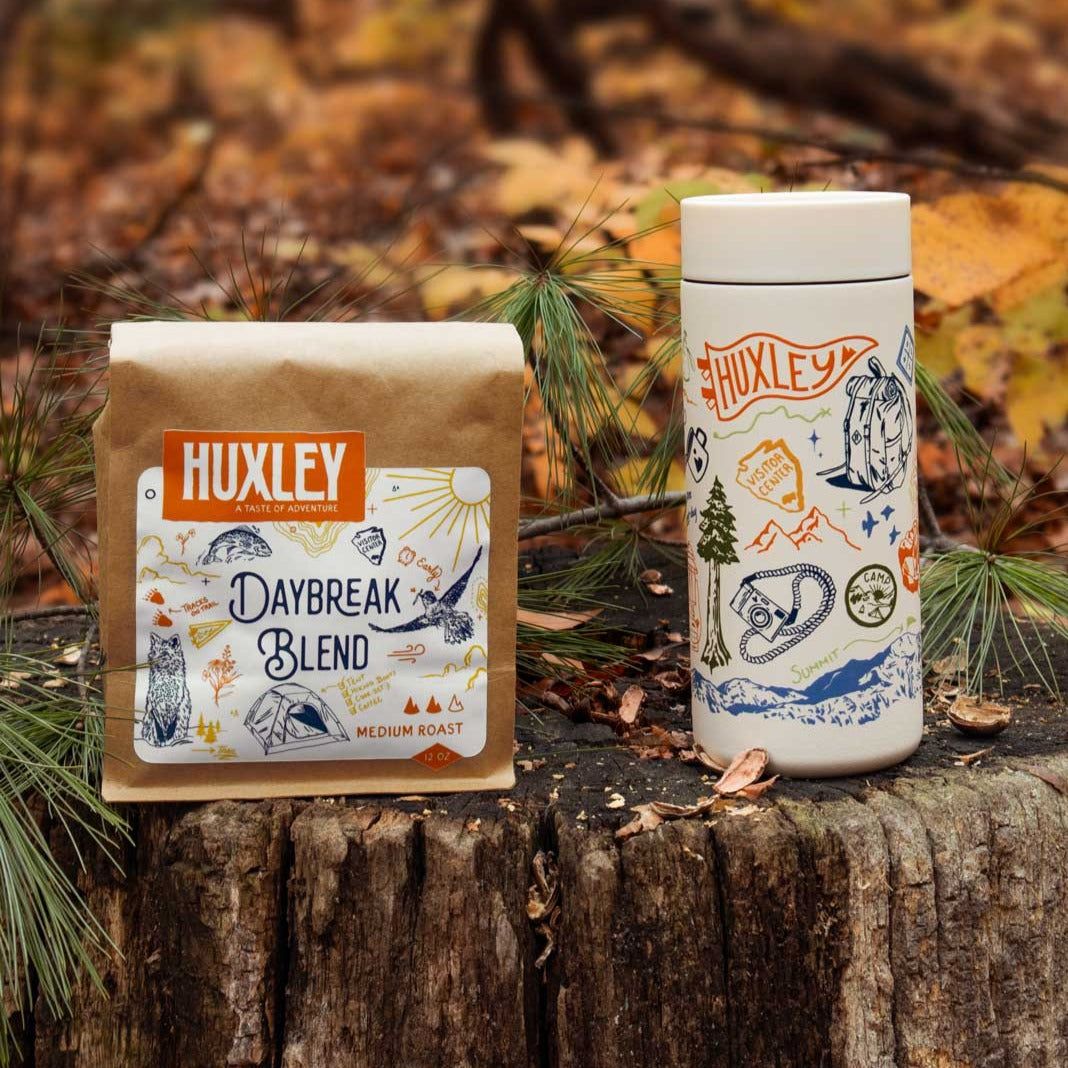 Explorer's Kit
Geared towards those always on the move, the Explorer's Kit has you covered. Start your day with Backpacker Blend single serve coffee brew bags—crafted to invigorate and fuel your wanderlust. Jot down memories, routes, or fleeting inspirations in your Field Notes waterproof notebook. Stay stylish on the trail with a Huxley Navy Trucker Hat. And with the custom Huxley Miir travel thermos, your beverage stays consistently warm or cold. It's not just a gift; it's an adventurer's essential companion.
Regular price

Sale price

$79.95
Free Shipping
Happy Camper
For the adventurer at heart who still craves the comforts of a warm brew, our Happy Camper Gift Set is the perfect fusion of wild wanderlust and cozy contentment. Awaken your senses with our medium roast Daybreak blend, designed to capture the essence of dawn breaking over a tranquil campsite. Paired with the iconic Miir Camp Cup, your drink stays toasty, mirroring campfire moments. And with the Miir Pourigami, the world's smallest, most durable and portable travel coffee dripper, brewing becomes an art. It's more than a gift; it's an invitation to embrace every sunrise, no matter where you are.
Regular price

Sale price

$79.95
Free Shipping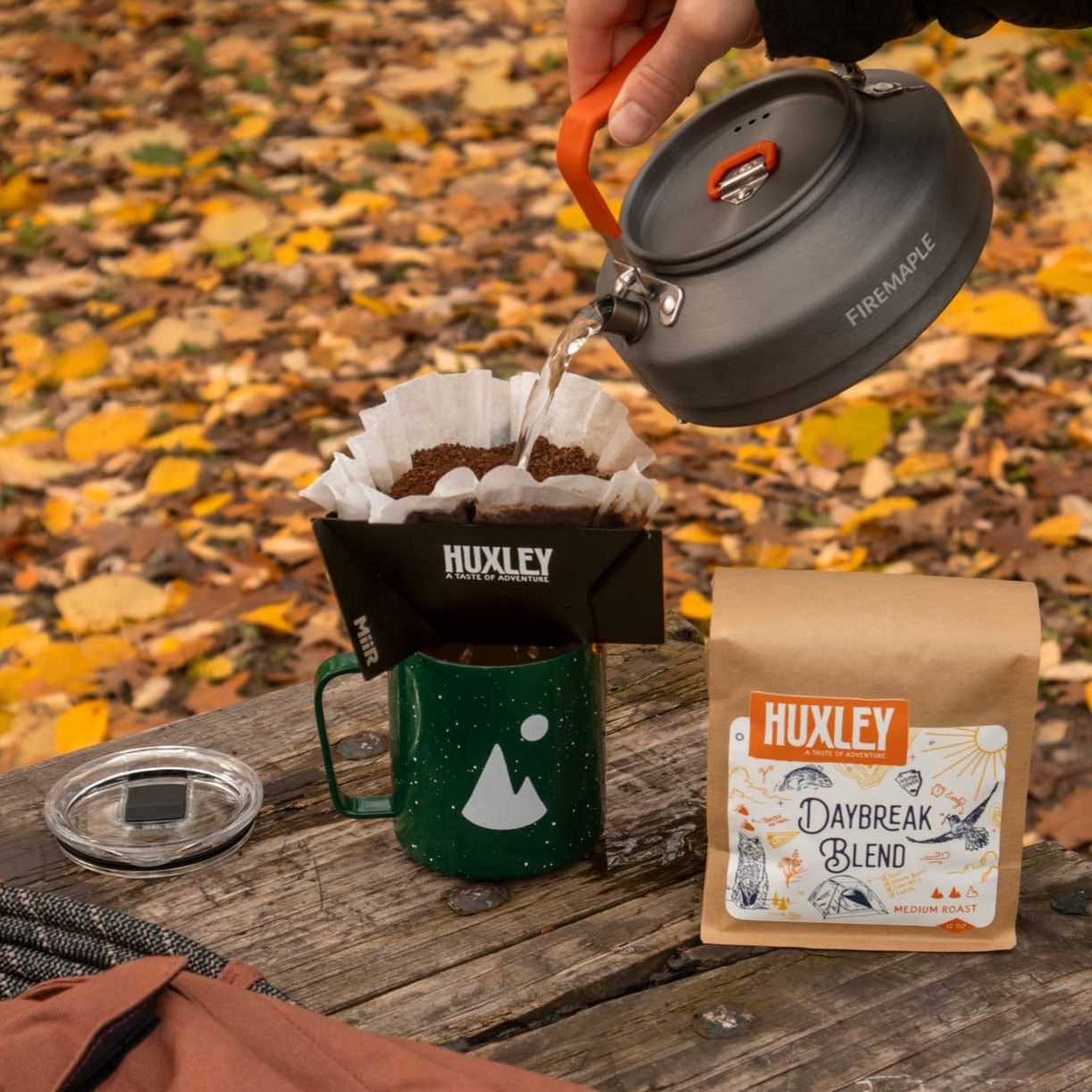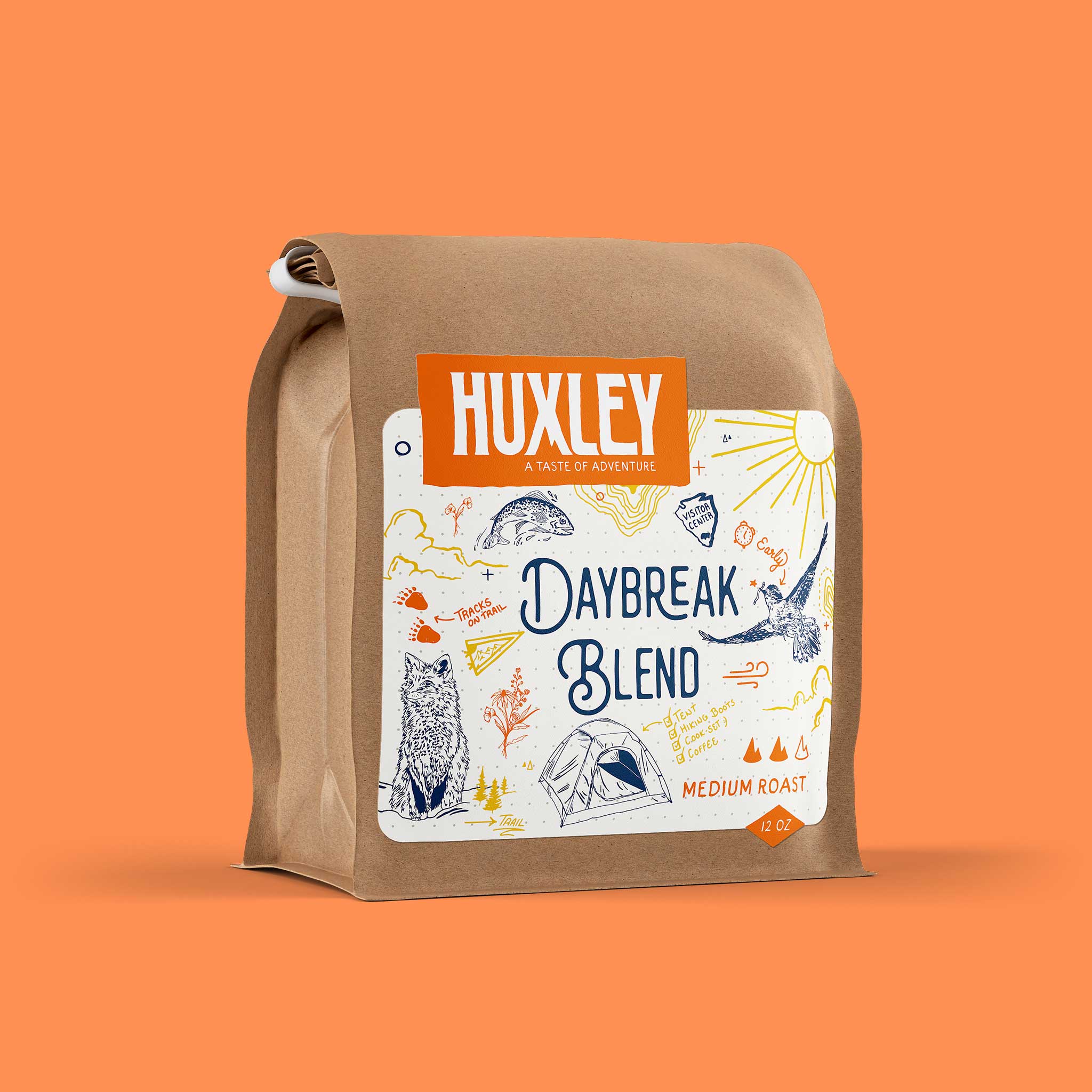 Homebody
For those who want to bring the allure of the outdoors to the comfort of their home, we present the Homebody Gift Set. Ignite the night in the warm glow of a Wildwood Forest Park Travel Candle that brings the fresh forest scent inside. Engage in your favorite card game with a stunning illustrated National Park inspired deck. Savor a moment with a cute mug brimming with the aromatic notes of our Aurora Blend. Celebrate the cozy spirit of the homebody in your life with this hand picked ensemble.
Regular price

Sale price

$79.95
Free Shipping
Adventure Barista
For the coffee aficionado with a taste for exploration, the Adventure Barista Gift Set is your gateway to a world of flavor. Dive into Huxley's Sampler Pack and experience a journey from the aromatic notes of our light roast Aurora Blend, to the balanced richness of the medium roast Daybreak Blend, culminating in the robust depths of the dark roast New Heights Blend. Every sip is an adventure waiting to unfold. And with the custom MiiR travel thermos, your brew is ensured a trusty companion, keeping it at the perfect temperature as you venture onward.
Regular price

Sale price

$69.95
Free Shipping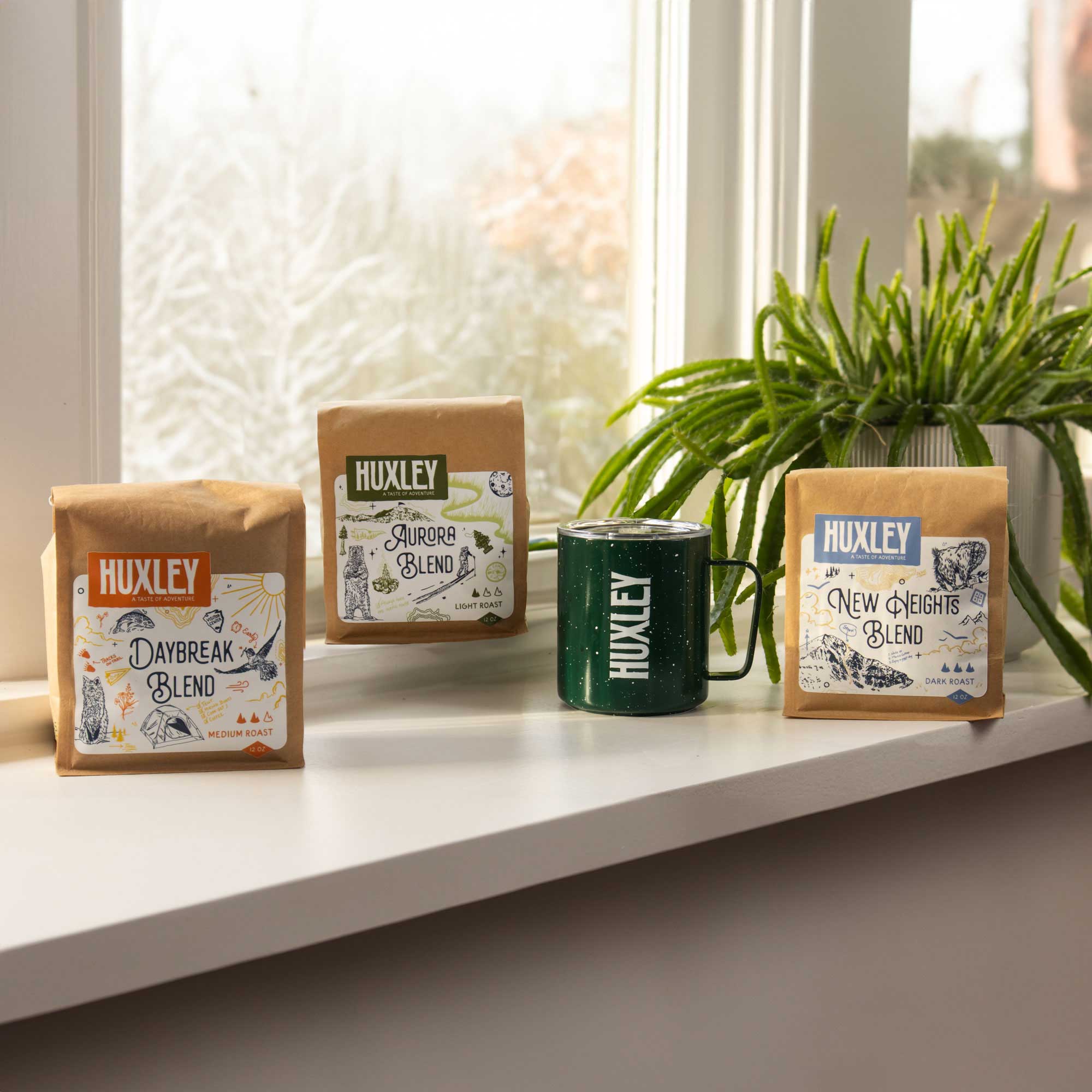 This coffee smells fresh without even opening the bag, the colorful packaging makes you want to take this coffee on an outdoor adventure!

Alexa H.
The aroma just grabs you. Love it.

Ryan A.
I enjoy Huxley coffee because it is consistent, reliable and delicious. I like to make it in cold brew and pour over coffee.

Miceala R.
I love the rich flavor and the brand itself-Huxley was truly created for the travelers, the wanderers, the free spirits! I love how fun your brand is but also how delicious Huxley is- I am excited to try all blends!

Janessa J.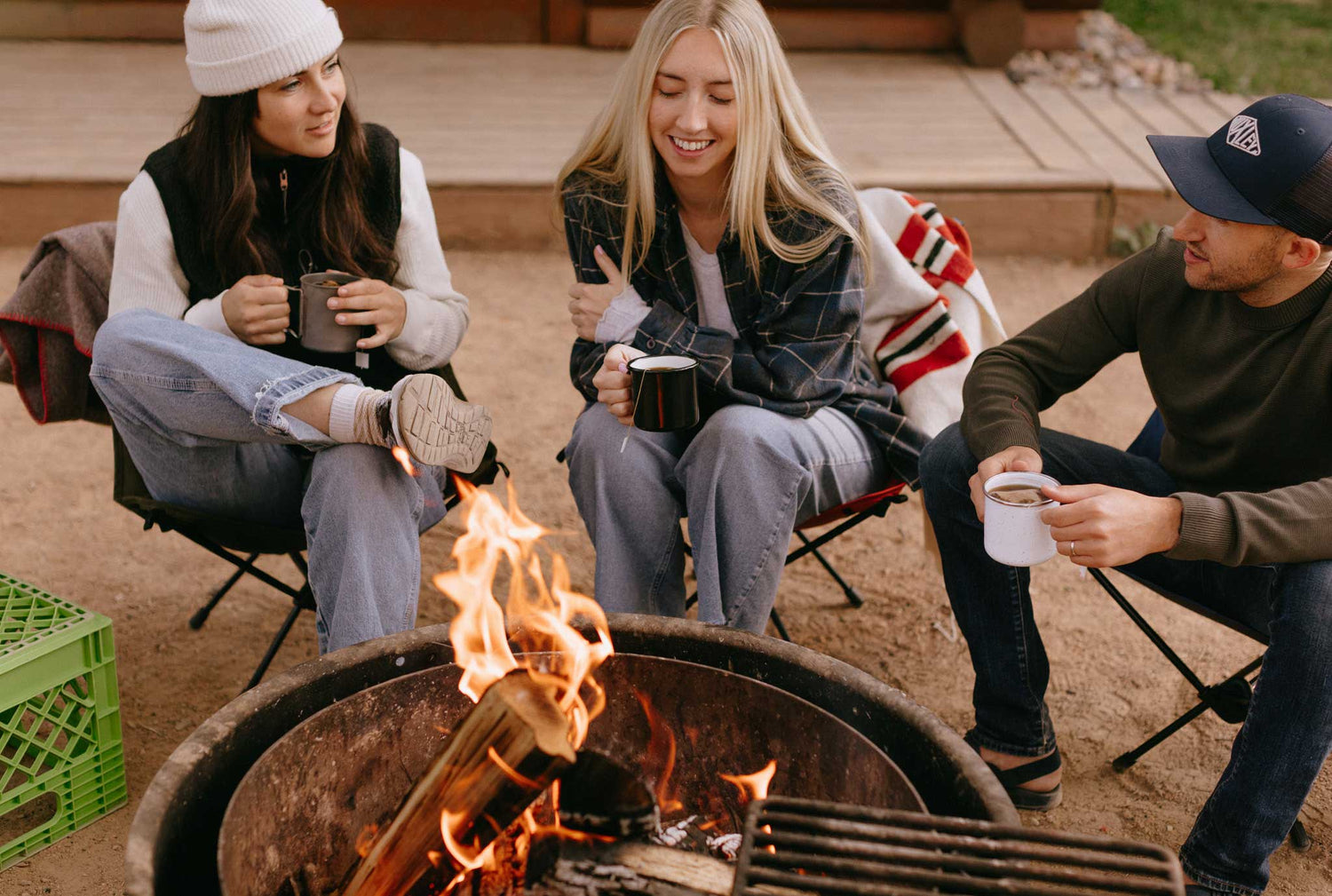 Get To Know Huxley
What happens when a creative ski bum, marketing guru, and food and beverage expert collaborate? Well for starters, meetings full of tangents and puppy photos. But besides that, you get Huxley. 
Once upon a time, we were part of the 9 to 5 hustle with idyllic jobs at a small marketing agency. We were building dreams alright, but they weren't ours. That's why in 2023, we took the leap.
Bootstrapped and caffeinated, we traded the corporate grind for a coffee grinder instead. Huxley is our adventure—our liberation—and it can be yours too.
Learn More
FAQ
How long will it take to ship?

Our coffee is roasted fresh each week. Gift sets will ship within a week of ordering. Transit time is 2-5 days.
How do I add a custom gift note?

After a bundle is added to the cart, you will see an option to "Add Gift Message" before you click check out. Please write your message and we will hand write it on a custom Huxley greeting card. Be sure to add your name at the end, so the recipient knows who it is from.
What are the shipping deadlines for holidays?

Thanksgiving: November 16 
Christmas: December 14 
New Years: December 19
Can I customize the bundle?

Currently, our holiday bundles are pre-curated for the best experience, but stay tuned for future customizable options. Email us if you have any questions at hello@drinkhuxley.com.
Do you offer international shipping?

At this time we are only shipping within the United States.
Are the items in the bundle available for individual purchase?

Some items are exclusive to the holiday bundle, while others may be available for individual purchase. Please browse our shop for individual product availability.