Adventure Barista
Regular price

Sale price

$69.95
Free Shipping
For the coffee aficionado with a taste for exploration, the Adventure Barista Gift Set is your gateway to a world of flavor. Dive into Huxley's Sampler Pack and experience a journey from the aromatic notes of our light roast Aurora Blend, to the balanced richness of the medium roast Daybreak Blend, culminating in the robust depths of the dark roast New Heights Blend. Every sip is an adventure waiting to unfold. And with the custom MiiR travel thermos, your brew is ensured a trusty companion, keeping it at the perfect temperature as you venture onward.
Shipping Info

Our coffee is roasted fresh each week. Gift sets will ship within a week of ordering. Transit time is 2-5 days.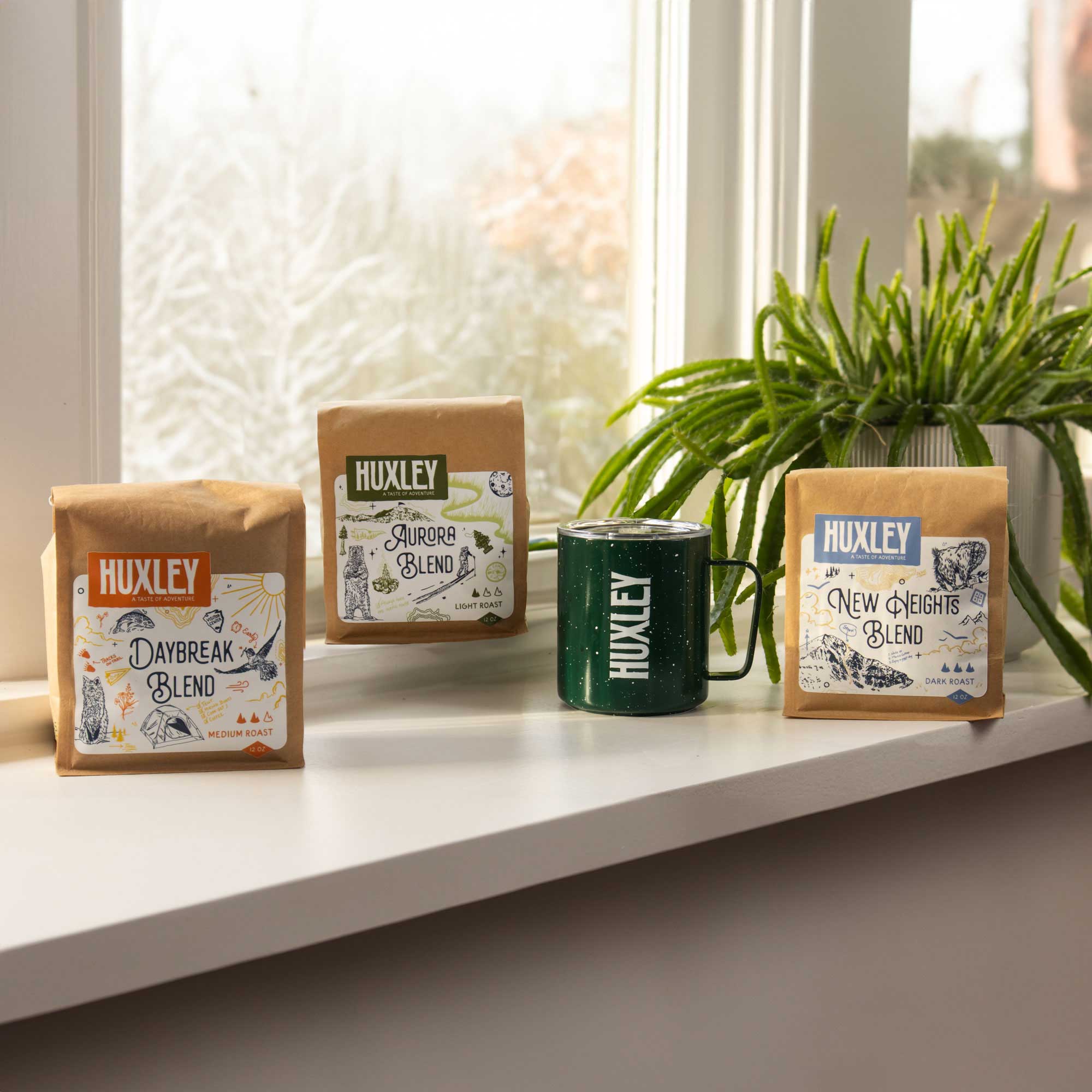 Huxley Aurora Blend
Take your coffee experience to the stars with Aurora Blend! A light roast made from Colombian, Guatemalan, and Peruvian beans, it brews up a cup that shimmers with tropical fruit goodness and a refreshingly bright acidity.
Huxley Daybreak Blend
Our signature medium roast coffee is the perfect pick-me-up. Imagine melted milk chocolate, bing cherry and a hint of orange zest in your cup! This perfectly balanced blend uses coffees sourced from Brazil, Guatemala, and Ethiopia. Take a sip and get ready to tackle your day with energy and flavor.
Huxley New Heights Blend
Treat yourself to a deliciously smoky, smooth cup of New Heights Blend. It's a unique dark roast that's packed with rich, complex flavors of campfire smoke, dark chocolate, and raspberry! This blend is sourced from Guatemala and Colombia for an unforgettable, dynamic flavor.
Miir Camp Cup
Channeling the timeless charm of campfire mugs, the MiiR Camp Cup boasts beauty, durability, and functionality. Paired with the Press-fit Slide Lid, it offers enhanced insulation and splash-proof convenience. We choose MiiR because they prioritize supporting people and stewarding the planet.