You know the feeling—reaching the summit yet craving something more? We've been there.
Once upon a time, we were part of the 9 to 5 hustle with idyllic jobs at a small marketing agency. We were building dreams alright, but they weren't ours. That's why in 2023, we took the leap.
Bootstrapped and caffeinated, we traded the corporate grind for a coffee grinder instead. Huxley is our adventure—our liberation—and it can be yours too.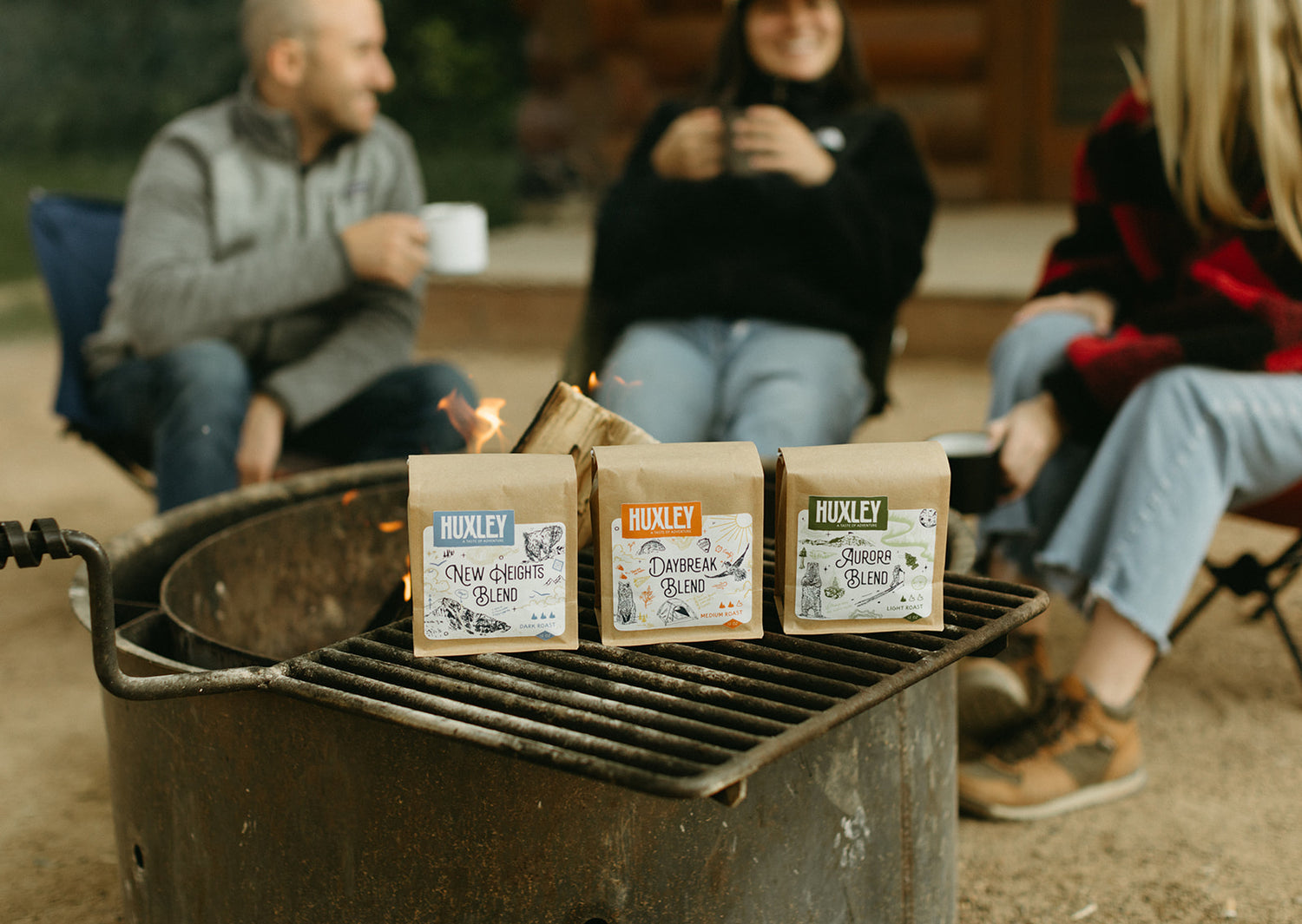 A Taste Of Adventure
Life's too short to live on autopilot. Whether you're a weekend warrior or a professional athlete, Huxley offers you "A Taste Of Adventure." We don't just quench thirst; we fuel passion. 
We get it, adventure is 90% preparation. For too long our community has had to compromise on quality or utility. You shouldn't have to sacrifice delicious coffee for that extra bit of packing space. 
That's why we crafted our signature Backpacker Blend single-serve brew bags. Weighing just 0.5 ounces each, these lightweight wonders pack in a full-bodied coffee experience that's as delicious as it is convenient. Simply steep in hot water for 5 minutes and off you go! And if cold brew is your thing, just steep it overnight. Best of all, the bags are 100% compostable.
If you're a coffee connoisseur who enjoys the ritual of brewing, we've got you covered too. Meet our line-up of whole bean coffee: the light roast Aurora Blend, the medium Daybreak Blend, and the dark New Heights Blend. Each has been crafted to offer a unique flavor profile—from tropical fruit notes to the rich, smoky tones of campfire evenings.
And hey, we're not stopping at coffee. Our team is setting our sights on the rest of your adventure packed day. We're tinkering away on a full line of adventure focused beverages to hydrate you, replenish you, and fuel you. We believe that you can have a functional beverage that tastes great and is good for you.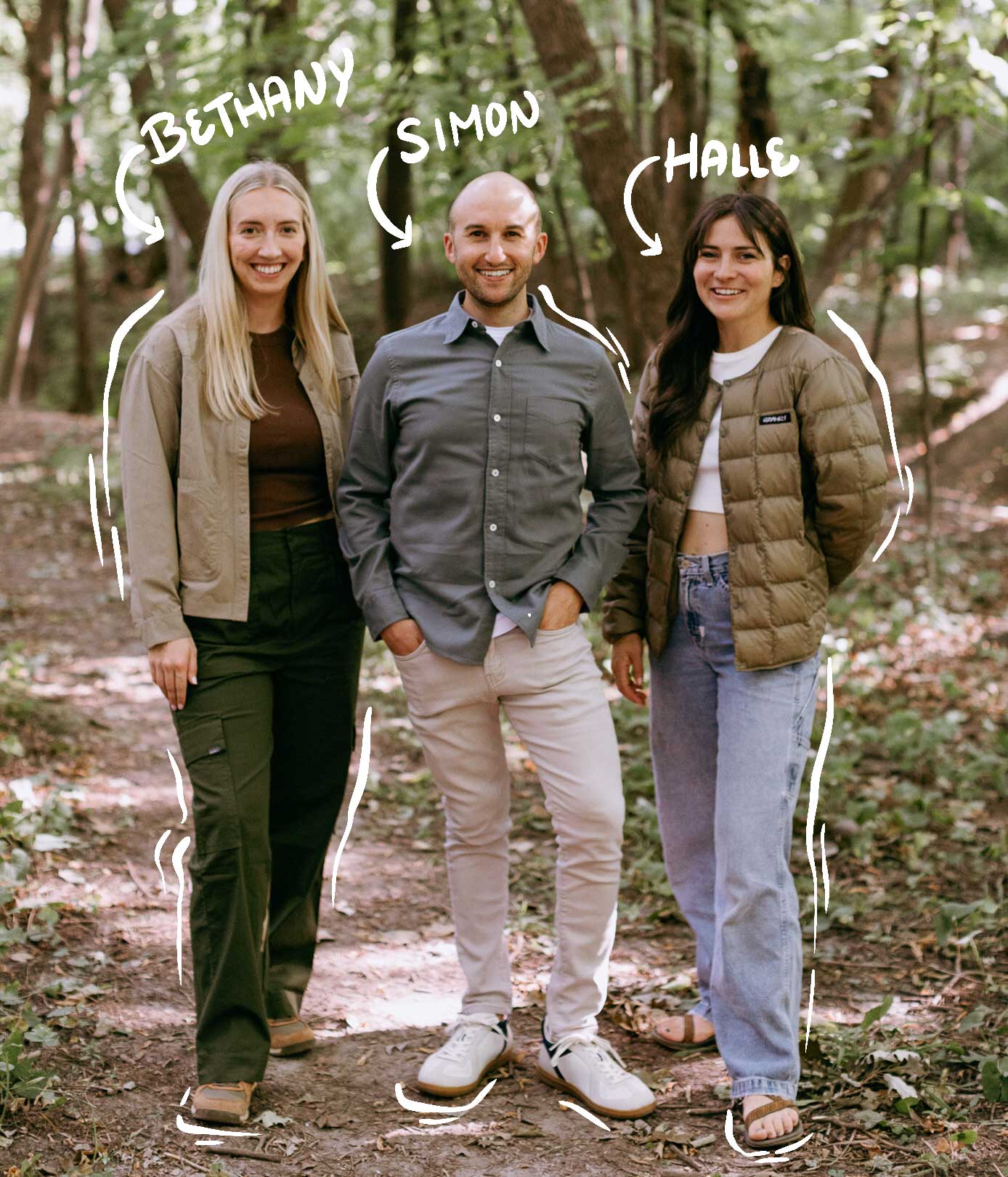 Who's Behind Huxley?
What happens when a creative ski bum, marketing guru, and food and beverage expert collaborate? Well for starters, meetings full of tangents and puppy photos. But besides that, you get Huxley. 
Halle Hauer is our Creative Director, professional ski bum, and all around doodler. She said see ya later to Minnesota cause it's too flat and moved to Bozeman so she can ski all day. 
Bethany Schippel is our Marketing Manager, expert checklist maker, and chief of meeting snacks. She's cool with flat Minnesota cause well…she rather not fall down a mountain.
Simon Solis-Cohen is our Founder, retired chef in residence and chief coffee snob. He likewise prefers flat Minnesotan adventures like cycling, paddle boarding, and fly fishing.
Our Promise and Commitment
As a dynamic trio, we are building Huxley from the grounds up. As we embark on this exciting journey, we've developed five core values to guide our decision making: integrity, community, balance, generosity, and impact. The final value of impact best summarizes our main goal. We want to leave this earth better than we found it and inspire joy, creativity, and love along the way. 
As token Millenial and Gen Z citizens of this earth, we really give a damn about climate change. We scrutinize every step of our process, looking to minimize our carbon footprint, and invest in environmentally sustainable solutions including compostable and post consumer recyclable packaging. We are far from perfect and view this mission as a lifelong expedition with no finish line. 
Every decision we make will have a ripple effect for generations to come and we take this responsibility seriously. We're not just brewing coffee; we're brewing change. We're committed to putting our money where our mouth is. That's why we've pledged 1% of our earnings to environmental causes as a proud member of 1% For The Planet.
Join the Journey
Ready to elevate your adventure game? Whether you're dreaming of conquering Mt. Everest or finding peace in a simple forest stroll, Huxley is designed to savor life's adventures, big and small. So go ahead—step outside, feel the sun on your face, and make your life a little more delicious. We promise to be right there with you, fueling every step you take.